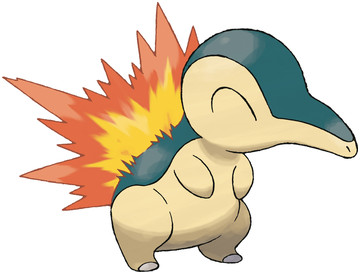 G2 continues to beg for Pokémon lunches. Her absolute favorite Pokémon is Cyndaquil. Unfortunately, that's not an easy Pokémon to recreate using food, and it's not one that's as popular as Pikachu, so there are no commercially available punches or presses in Cyndaquil's shape. This is my first attempt at Cyndaquil.
On the left side of this Easy Lunchbox is a provolone sandwich cut into a Pikachu shape and pressed using these Pokemon sandwich cutters. I toasted the bread and added a little red and black using food markers. Near the sandwich there are also homemade fruit roll-ups in a silicone bear-shaped cup and homemade goldfish in another silicone mini-muffin cup. On the right at the top is a chocolate cupcake with a slightly misshapen maple leaf (the fondant was too warm when I was working on it). Finally we have my first attempt at Cyndaquil. I started by making two rice balls and shaping them together. I didn't quite get the right shape for his snout, but I tried.. Next I painted his back with blue food coloring gel. I also painted part of a piece of provolone cheese for the top of Cyndaquil's head. Nori was cut out for arms, legs, eye, and nostril. Finally I cut apple peel and carrot into spiky shapes to represent Cyndaquil's flames.
Overall, this wasn't the best Pokemon lunch I've made (seriously, who thought I'd ever write those words?), but G2 was happy, and that's what matters most in the end. I'm going to have to try again another day, after I get some better cutting tools.  I'll also try to make a dark blue fruit leather, too, for Cyndaquil's head and back. The last blue fruit leather I tried turned green, but it's worth trying again (the girls do eat the green, so all was not lost).
This post includes affiliate links.